A critical trend in universities today is to educate students according to market demand, offering enormous benefits to both DTU and business alike. Companies are now insisting that DTU should educate professionals who meet their requirements and, at the same time, benefit from learning about practical problem-solving, business development, inventions, consulting services and so on. This will continue to enhance DTU's reputation, attract more qualified staff and satisfy future company requests.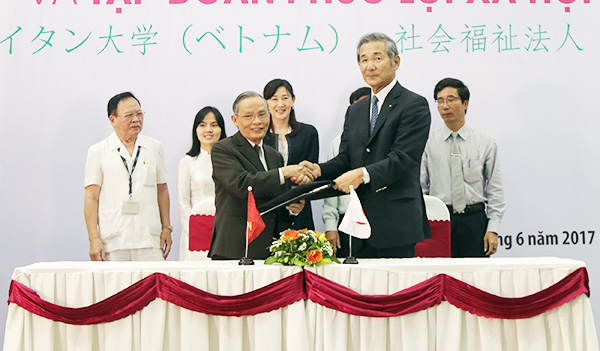 DTU expands collaboration with national and international universities to enhance the quality of education
The DTU objective is to provide an education which flexibly adapts to the labor market and provides a solid foundation for future careers in a dynamic and rapidly changing world. DTU has collaborated and worked closely with agencies and enterprises to analyze and satisfy their special requirements in specific fields by teaching and providing the necessary knowledge and skills to meet their demands.
DTU has now established objectives and educational programs based on the jobs offered. The university has expanded partnerships and diversified its curricula to improve quality and rebuild programs tailored to the types of jobs that graduates will be available at those companies in the near future. Between 2014 and 2016, 129 partners have signed training agreements with DTU.
* Partners in the field of Tourism & Hospitality
1. The Nam Hai Resort
2. Tuoi Tre Viet Tourism JSC
3. InterContinental Danang Sun Peninsula Resort
4. Hyatt Regency Danang Resort and Spa
5. Danang Fusion Mania
6. Sandy Beach Resort
7. Vietnam Montgomerie Links
8. Danang Furama Resort
9. Luxury Hotel (Tran Phu st., Da Nang)
10. Sunrise Hoi An Resort
11. Crowne Plaza Danang
12. Saigon Tourist, Danang branch
13. Novotel Danang Premier Hanriver
14. Danang branch of Ben Thanh Tourism Service Co., Ltd
15. Laguna Vietnam Co., Ltd (Loc Vinh, Phu Loc, Hue)
16. Brillant Hotel (Bach Dang st., Da Nang)
17. Luna Diamon Hotel
18. Danang Eden Plaza Hotel
19. Hoi An Nhi Nhi Hotel
20. Ba Na Cable Car JSC
21. Viet Da Tourism JSC
22. Vietnam Travelmart JSC
23. Vitour JSC
24. Non Nuoc Viet Travel Co., Ltd
25. Sunrise Premier Village Resort JSC
26. Sea Tours Co., Ltd
27. Hoi An Focus JSC
28. JW Mariott Phuket Resort & Spa (Thai Lan)
29. Ba Na Golf JSC
* Partners in the field of Engineering and Business
1. CIENCO Joint Stock 512
2. Rang Dong Light and Flask Company, Da Nang Branch
3. Ngu Lap JSC
4. Tan Nam JSC
5. Pacific Steel JSC
6. Danang Steel JSC
7. Petroleum Company (Hoa Hiep, Da Nang) - Petec Trading & Investment Corporation
8. Danang Plastic JSC
9. 28 Danang JSC
10. Xuan Mai Danang Vinaconex JSC
11. CEVIMETAL
12. Hong Tri Viet Construction JSC
13. COTIMEX Danang
14. Ngu Chau Long Trading & Investment JSC
15. Lap Thinh Trading & Service Co., Ltd
16. Hoang Nhat Phuong Co., Ltd
17. Han Gia Hanh Trading &Transport Service Co., Ltd
18. Nguyen Kim Technology JSC
19. Dai Trung Nghia Trading & Advertising Service Co., Ltd
20. Danang branch of Tuan Viet General Trading Co., Ltd
21. Machinery Electronic Appliances & Technology JSC
22. Minh Huong Thinh Trading & Service Co., Ltd
23. Vu Phong Co., Ltd (Binh Duong)
* Partners in the field of Information Technology
1. Vietnam Technology Resource Co., Ltd (Enclave Danang)
2. LOGIGEAR (HCMC)
3. Game loft Danang Branch
4. Representative Office of MISA JSC
5. Vietnam Free & Open Source Software Association (VFOSSA)
6. Vietnam T-Tech JSC (Vinaconex, Hanoi)
7. FPT Telecom JSC, Danang branch
8. Mobile World JSC, Danang branch
9. Phi Long Electronic and Information Technology Co., Ltd
10. Fast Software JSC, Danang branch s
11. Green Global Co., Ltd
12. Da Nang Mobile Center Branch 1 - MobiFone
13. Danang branch of FPT Software Co., Ltd
14. KIICE
15. Worldtech JSC (Binh Duong)
16. Rikkiesoft Software Company (Ha Noi)
17. Bkav Corporation (Da Nang)
18. CMC Telecom Danang
* Partners in the field of Finance & Banking, Accounting & Auditing & Insurance
1. Vietnam Association of Certified Public Accountants (Ha Noi)
2. A.T.A.X Co.,Ltd
3. AVN Audit Vietnam Co.,Ltd
4. CPA Australia Ltd (28 Freshwater Place, Southbank vic3006)
5. Danang Bao Minh Company
6. Maritime Bank (Ha Noi)
7. Agribank Danang branch in Hai Chau Dist.
8. Cho Moi, Danang branch of Agribank
9. Tho Quang Transaction Office of Agribank in Son Tra Dist.
10. SHB, Quang Nam branch (Tam Ky)
11. SHB, Danang branch
12. OCB, Trung Viet branch
13. ACB, Danang branch
14. Viet Capital Bank, Danang branch
15. Hai Chau Transaction Office of Viet Capital Bank
16. BIDV, Danang branch
17. Danang Valuation and Financial Services JSC
18. Danang branch of VPB
19. Bo Trach Transaction Office (Quang Binh) of VPB
20. Navibank, Danang branch
21. Song Han Transaction Office (Da Nang) of MBB
22. Vietnam Capital JSC, Danang branch
23. Vietnam Fumigation JSC, Danang branch
24. Representative Office of Hung Vuong Audit Co., Ltd
* Partners in the field of Healthcare and Environment
1. Medical centers in Thanh Khe, Lien Chieu, Cam Le and Son Tra District
2. Danang Hospital for Women and Children
3. Hospital 199 of the Ministry of Public Security
4. Danang Preventive Medicine Center
5. Military Hospital 17
6. Hospital of Traditional Medicine (Nursing)
7. Danang Hospital
8. Danang Psychiatric Hospital
9. Danang Rehabilitation Hospital
10. Quangnam Department of Natural Resources and Environment
* Partners in the field of Education - Research Investment
1. MITNAPHA JSC
2. Long An Industrial Economics University
3. Kien Giang Technology and Economics College
4. Vietnam Research Institute of Electronics, Informatics and Automation
5. Central Airports Corporation (in training)
6. Dang Khang JS CO (English training)
7. Nam Tri JSC
8. Danang Center for Support and Development of Small and Medium Enterprises
9. Danang Association of Small and Medium Enterprises
10. Danang Young Entrepreneurs' Association
11. Sao A Technology Investment and Development JSC
12. Danang branch of Maybank Kim Eng Stock Co., Ltd
13. Thua Thien Hue Writers'Association
14. Ho Chi Minh City Writers' Association
15. Danang Writers' Association
16. Danang PMC Building Management and Operation Company