Duy Tan University is located in the heart of sunny Danang, on the Pacific Ocean. The University has steadily developed, sharing its ambition with the city to create a bustling, modern, international metropolis. Founded by the decree of the Prime Minister of Vietnam on the November 11th, 1994, Duy Tan University is the first and the largest private, multidisciplinary and diversified institution in Central Vietnam.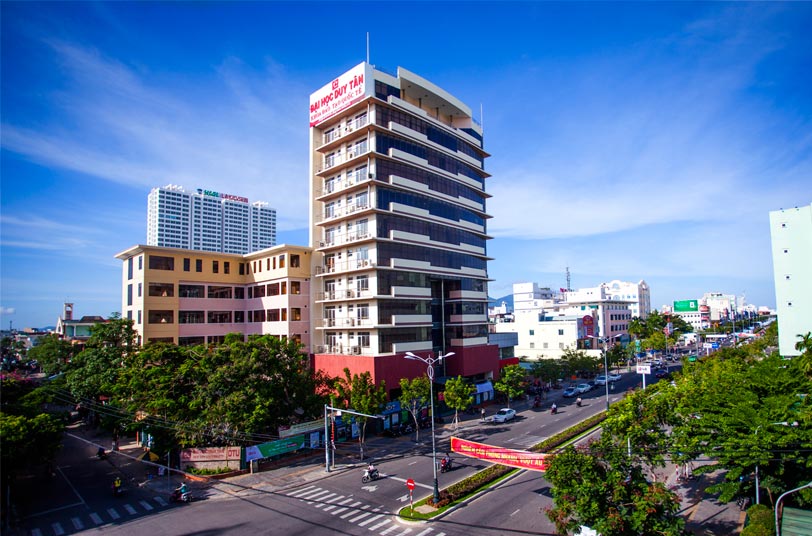 DTU campus at 254 Nguyen Van Linh, Danang
Over twenty-eight years and thanks to its great efforts, Duy Tan University has made steady progress in education and training. The University has enrolled 3,108 PhD and Master's students; 109,130 students of Undergraduate & Associate Bachelor's Degree programs and 12,400 students in Vocational programs.
Duy Tan University has fueled the local labor market with a total of 77,604 graduates and postgraduates so far. The University has educated many highly qualified members for the labor force which actively contributed to the industrialization and modernization of the area. Over 95% of graduates find jobs within a year of graduation, which contributes to improving the people's intellectual standard and to the socialization of education.
Dedicated for twenty-eight years to providing high quality education to the community, Duy Tan University has continually increased the quantity and quality of its people. The number of employees has grown from a few dozen to 1,223 today, of whom 28% hold PhDs, with full or associate professorships. Many graduated from leading universities in the USA, Russia, France, Germany, Canada, Korea and Belgium. In addition, there are 200 visiting lecturers from Vietnam and abroad teaching at Duy Tan University. Working as a team, the full-time lecturers and the visiting lecturers have played an important part in the success of Duy Tan University. They have contributed to moving DTU into the top 5 higher academic institutions in Vietnam, with the most international publications; one national level research project; 56 Ministerial level projects; 6 Protocol projects; 7 Provincial level projects; one certificate of utility solution; 15 patents, 13 of which were registered for protection internationally; and one of the two DTU Journals of Science & Technology is now indexed by Scopus.
With the slogan: "Partnering with Giants", Duy Tan University has expanded partnerships with many well-known American universities. These include Carnegie Mellon University (CMU), one of the top four American universities in IT (according to U.S. News 2021); Pennsylvania State University (PSU), one of the top fifty universities in Economics and Business Administration (according to U.S. News 2021); and California State University, CSU Fullerton and Cal Poly, one of the top five American public universities in Civil Engineering and Architecture on the West Coast; and with Purdue University, one of the top ten American universities in Electrical & Electronic Engineering and Mechatronics.
In 2010, Duy Tan University started to offer the 2+2 program (DTU students spend 2 years at DTU and 2 years at foreign university in the US or Canada); the 1+1+2 program (DTU students spend 1 year at DTU before transferring to a foreign university in America) and the 3+1 program (DTU students spend 3 years at DTU before transferring to a foreign university in Singapore or the UK.)
In 2017, Duy Tan University has partnered with Troy University and Keuka College to offer international-level ADP courses in Business Administration, Information Technology, and Tourism & Hospitality Management to help students obtain US degrees while studying in Vietnam.
Over twenty-seven years, Duy Tan University has made impressive progress and achieved many excellent accomplishments in education and research. The University has been named:
-
DTU ranks in the top 500 universities internationally in 2023
-
Ranks in the top 100 in the Times Higher Education Asia University Rankings of 2022
-
Ranks in the top 210 Asian universities in 2022
-
Ranks in the top 801-1000 universities internationally in 2023, according to the QS Rankings
-
Accredited by ABET in Information Technology, and Electrical and Electronic Engineering
-
The first university in Vietnam to be certified by the United Nations Tourism Education Quality (UNWTO TedQual) in Hospitality
-
Ranks 251-300 worldwide in Computer Science; 251-300 in Engineering &Technology; 301-400 in Business & Economics; and 176-200 in Health & Medicine by Times Higher Education in 2023
Over the course of twenty-seven years of operation and development, DTU students have achieved special academic accomplishments in their quest for knowledge and skill.
- Ta Ba Thanh Huy won first prize in the 2008 National Informatics College Olympiads.
- Dang Xuan Nam came first in the Loa Thanh Civil Engineering and Architecture Tournament in 2010.
- Nguyen Thu Quynh won a National award for Female Information Technology students in 2012.
- The 2013 and 2017 CDIO Cups in the US and Canada.
- The Asia - Pacific IDEERS Championship in 2014.
- A win in the 2016, 2017 and 2018 National Go- Green- In - The – City and National Microsoft Imagine Cup.
- Nguyen Thi Thanh won the 2018 Women in Business Award at the Go Green in the City contest the US.
- Four prizes in the 2020 National Student Festival of Architecture.
- Third place in the 2020 ASEAN Student Contest on Information Security.
- First Prize in the 2020 Medical Scholarship Contest.
- Dr. Ho Thanh Tam became one of the ten winners of the 2020 "Golden Globe Awards", through his continual dedication to research.
- Second Prize in the Make-in-Vietnam Digital Award 2020 with "3D Anatomical Simulation Technology Application".
- First Prize in the 2021 Youth Drivers for Change Awards with "Online Medicine Ecosystem" project.
Over twenty-eight years of devotion, Duy Tan University has always been worthy of the trust and confidence of the Communist Party, the State and our community and has received many certificates of merit and medals from the City and National government. Particularly, DTU honored with a First-Class Labor Medal and Dr. Le Nguyen Bao, DTU Provost, was awarded a Third-class Labor Medal for his outstanding achievements in education.
In keeping the motto: "We Do Everything for Student Rights and Future Careers", together with the mission: "To focus on the education and research of various sciences and technologies in order to produce dynamic, creative, healthy graduates, who love their country, possess humanitarian Vietnamese values, a sense of community, self-confidence and a broad range of capabilities and skills, to become Citizens of the World", Hero of Labor, Distinguished Teacher Le Cong Co, Chairman of the DTU Board of Trustees, has inspired everyone at Duy Tan University to work harder for the development of the University in the near future.