On May 19, the Da Nang City Youth Union held a ceremony to mark the 130th birthday of President Ho Chi Minh and honor special young people who followed his direction. Six DTU lecturers and students were presented Certificates of Merit by the Danang City Union for their outstanding contributions to the Danang Youth Movement.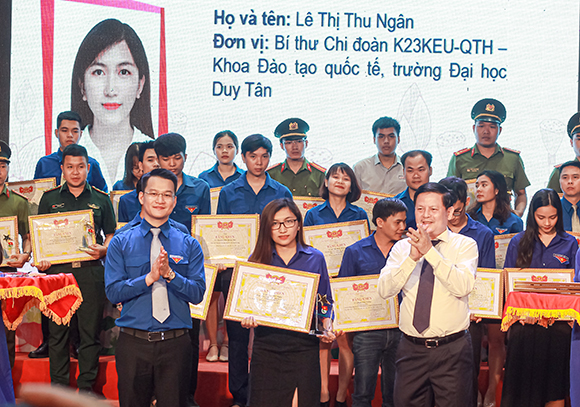 Le Thi Thu Ngan receives her award
Thirty-seven highly accomplished young healthcare workers, soldiers, civil servants and youth union leaders were honored, including Le Thi Thu Ngan and Nguyen Thanh An from DTU.
Also at the event, the Da Nang city Youth Union presented the March 26th awards and Certificates of Merit to young DTU party members, including Nguyen Thi Yen Nhi, Vice-Secretary of the Ho Chi Minh Communist Youth Union, and Ngo Dinh Nam, Secretary of the Faculty of Medicine Union Branch.
Besides, two DTU young Party members, Nguyen Thi Tuyet - the School Union Secretary and Chairwoman of the DTU Student Association and Nguyen Tuan Kiet, Deputy Chair of the DTU Student Association, were recognized together with 35 other young Party members. They are exemplary young Union and Party members advancing for the emulation movement of young people in Danang and for the development and protection of their Fatherland. They uphold the spirit of volunteering, and study and train without end to affirm the position of "young people of Ho Chi Minh's time" in society.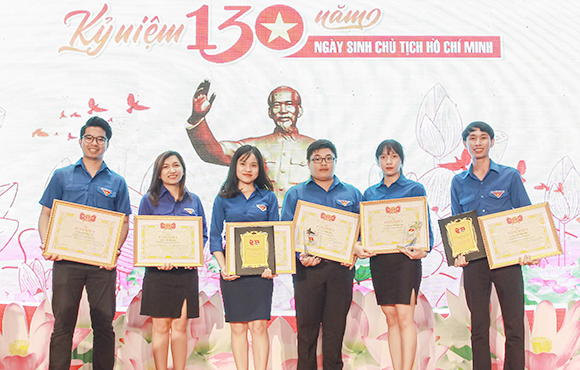 The Danang City Youth Union presents awards
Ten others and three organizations were also recognized as winners of a 2020 online contest, held from May 6 to 15, with 40,000 contestants.
Vo Le Kim Ngan, Secretary of the Hoa Cuong Bac ward youth union, commented that President Ho Chi Minh's thoughts, morals and lifestyle continue to inspire young people today and remain a driving force for youth union leaders to practice and conform to.
(Media Center)