Duy Tan University has recently established five new member schools, including the School of Foreign Languages, the School of Computer Science, the School of Technology, the School of Economics, the School of Medicine and Pharmacy, two institutes and one faculty.

The DTU School of Foreign Languages was founded in September 2020, offering Foreign Language programsfor PhD, Master and Bachelor degrees, in English, Chinese, Korean and Japanese.

The School used to be known as the DTU Faculty of Foreign Languages, established in September 1997. Since then, the highly-experienced lecturers have contributed heavily to the development of DTU as a whole, leading to the foundation of the Institute of Languages, with three faculties.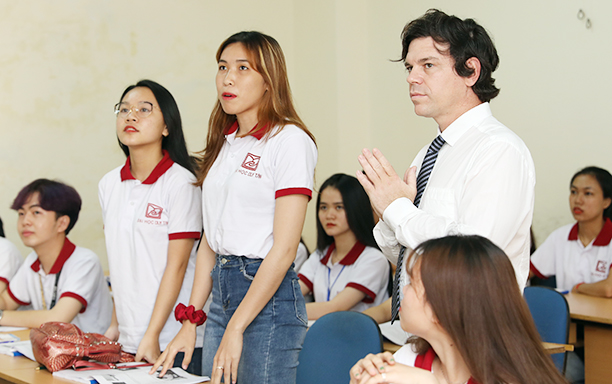 DTU students and foreign lecturers
The School of Foreign Languages comprises:
Faculty of English language
Faculty of Chinese Language
Faculty of Korean language
Faculty of Japanese language
In particular, the School will teach Specialized English, English Translation and Interpretation, English for Tourism and English for Education, to meetincreasing global demand.
Every year, students from all over Vietnam, totaling 3,000, have enrolled in the DTU four-year foreign languages programs, as well as some foreign ones in the Korean language faculty and 95% find jobs and secure key positions.
The highly-experienced lecturers were educated in Vietnam and elsewhere, including South Korea, the UK, China and Japan, and also conduct research at the faculty, university and ministry levels. Some publish papers in Scopus journals and participate in national and international conferences, meanwhile building a strong foundation for future research in the School of Foreign Languages.