In order to satisfy the socio-economic needs of Vietnam, DTU has always been executing its mission to graduate more and more highly-educated resources. As a result of the university's success at the undergraduate level, DTU is now able to offer six more advanced Master's degree courses to students in Danang and the Central Highlands. Master's students are enrolled twice a year, in June and November, starting their studies in July and December.

Fields of study:

- Business Administration

- Accounting

- Computer Science

- Civil Engineering

- Finance & Banking

- International Relations

The two international-standard programs, Business Administration and Computer Science, are taught in English to perfect language and professional skills.

Schedule:

- Full-time, from 1.5 to 2 years.

- Some courses can be studied in the evenings and weekends.

- The Computer Science and Business Administration courses are taught during normal working hours.

Scholarships are also offered to qualified Master's degree students. For more information, please visit: https://duytan.edu.vn/tuyen-sinh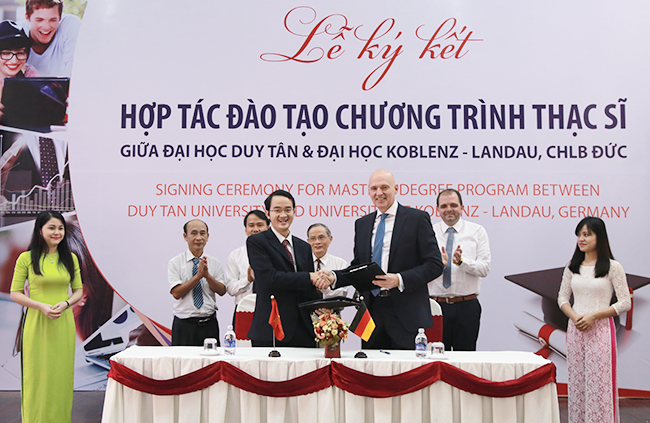 An agreement with the University of Koblenz-Landau in Germany
Why enroll in a DTU Master's program?
DTU has been working to develop a modern infrastructure and high-quality curricula, staffed by a team of experienced lecturers from well-known universities worldwide, including Carnegie Mellon University, Seattle Pacific, Penn State University, California State University, Singapore Polytechnic and others.
The DTU Master's programs are normally based on those taught at other universities in Vietnam, but the
Computer Science, Business Administration and Accounting programs were developed from the authentic American partner programs and offer the latest curricula in preparation for future careers. DTU makes the difference, with an increasing number of English teaching hours and extracurricular activities, to ensure that graduates are fully conversant with specialized English terminologies.
At the same time, field trips to businesses, extra-curricular activities and international exchanges are organized, meeting post-graduate students from other countries to broaden knowledge and practical experience. Flexible study hours are also offered.
For more information, please contact:
DTU Enrolment Center
254 Nguyen Van Linh, Da Nang
Tel:( 0236 ) - 3653561- 3650403- 3652608
Hotlines: 0905294390- 0905294391- 0905155544- 0901964444
Website: http://tuyensinh.duytan.edu.vn; http://sdh.duytan.edu.vn