DTU has now proved its success in both college-level and post-graduate education. The university currently offers six Master's degree programs, in Business Administration, Accounting, Computer Science, Civil Engineering and Finance & Banking, as well as three Doctoral programs, in Computer Science, Business Administration and Accounting. In order to enroll in these programs, applicants must meet the following requirements.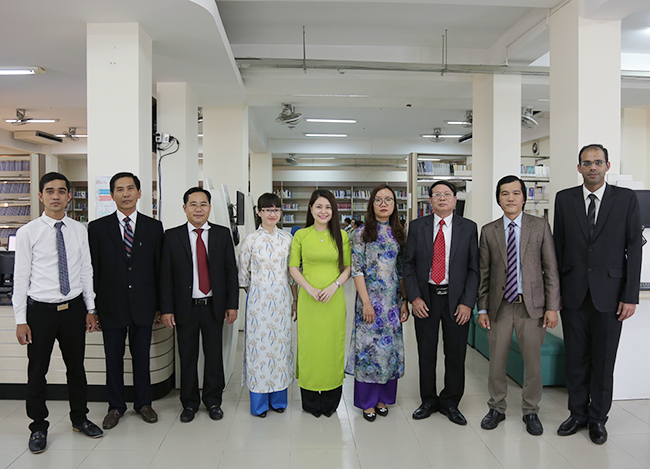 Lecturers and staff of the DTU Graduate School
Master's Degree Qualifications:
- Must have graduated in the same major, or must hold a university diploma related to that major and take supplementary courses prior to registration.
- Applicants with foreign degrees must follow the current DTU regulations.
- Applicants who did not major in Business Administration must take 7 additional subjects.
- Applicants holding a Bachelor's degree or equivalent in the same major will be able to sign up on graduation.
Doctoral Degree Qualifications:
a) A Master's degree in the same major or, if in another related major, must first take preparation courses.
b) A research proposal which clearly outlines suitable preparatory education and experience, the field of study and topic, reasons for choosing it, long-term objectives, reasons for applying to DTU, a work schedule for the entire project, career expectations after graduation and the name of a proposed advisor.
c) A recommendation letter evaluating the applicant's professional qualifications and ability to conduct research from at least one Professor, Associate Professor or Ph.D. who has worked with the applicant and specializes in the same field.
d) Language proficiency:
- A Bachelor's degree in English, French, Russian, Chinese, German or Japanese granted by an educational institute in Vietnam.
- A TOEFL iBT Certificate at level 45 or above or an IELTS score of 5.0 and above, no more than two years old.
- A full-time Bachelor's degree or Master's degree granted by a foreign institute meeting the same level of English. Certificates must be attached to the degree documents for verification by the Vietnam International Education Cooperation Department of the Ministry of Education and Training,
- Applicants who meet the requirements in part b) and c) who have not studied in English but in a foreign languages other than English at equivalent levels, as defined in Appendix II of the current regulations for Ph.D. courses, must be able to communicate professionally in English.
e) Other requirements:
- Must be nominated for the Doctoral program by their current HR department, if employed or, if unemployed, must have a clean criminal record.
- Must commit to pre-paying the tuition fee, which is refundable if the applicant does not complete the initial dissertation requirement.
- Must have published a paper related to their field of study in a scientific journal or conference proceedings, not more than 36 months before registration.
In order to continuously improve education quality, DTU has invested in modern infrastructure and highly-experienced lecturers, in order to provide the ideal educational environment and nurture the professional knowledge and skills that will guarantee success in meeting the latest social requirements. The DTU Graduate School is quickly becoming one of the best-known locations in Danang to pursue graduate studies.
For more information, please contact:
DTU Graduate School
254 Nguyen Van Linh, Da Nang
Hotlines: (02363) 650403 (104) - (02363) 650403 (114) - (02363) 652608
Website: https://duytan.edu.vn/tuyen-sinh