In 2020, DTU continues to enroll health science students. Doctors are playing an especially vital role during the Covid-19 epidemic and have known as the "Warriors in White", on the frontline of the fight to save patient lives. Doctors are respected worldwide for their dedication and skills in dealing with thousands of diseases for which no cures yet exist or with declining health due to environmental pollution. Duy Tan University educates and graduates highly-qualified health science professionals and expands its international partnerships to apply advanced teaching methods and to invest in the latest equipment to enhance training standards.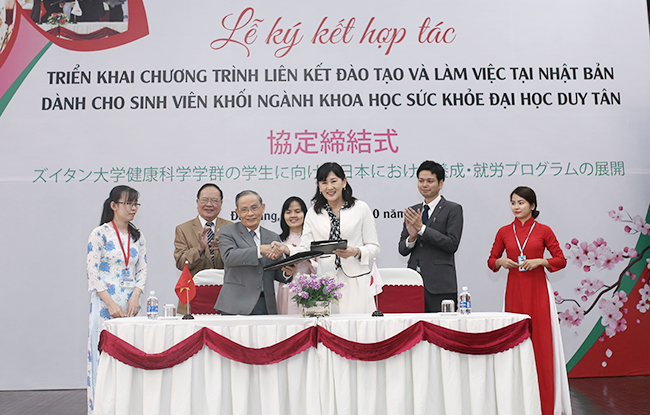 DTU signs an agreement with the Seirei Community from Japan
General Nursing
DTU began offering a General Nursing major in 2013. Until now, the faculty has graduated 1,200 Bachelors of General Nursing. A qualified nurse must be professional, compassionate, careful and responsible, because their work is critical to the health and well-being of their patients. Students must learn to solve all types of medical problems and how to operate equipment. They practice at hospitals and medical centers to broaden their knowledge and experience.
DTU partners with large American universities, to share curricula on the most advanced international medical and pharmaceutical subjects and invites foreign lecturers to DTU. These include the University of Pittsburgh, ranked 7th in medical research, and the University of Illinois in Chicago, which has the largest training programs in the US, as well as others from Ben Gurion University of the Negev, in Israel, and the Duke-NUS Medical School in Singapore.
In addition, DTU has signed agreements with organizations such as the SEIREI Social Welfare Community and the Suganuma Group in Japan and LC Partners. Partnerships have also been established with universities in Israel, Sweden, Thailand and the Philippines. DTU students will have the chance to experience foreign environments and ultimately qualify for excellent future careers.
Recently, DTU has partnered with Fooyin University in Taiwan to introduce an international Master of Nursing program, in order to meet increasing demand at home and abroad. Three outstanding DTU postgraduates have already successfully defended their dissertations in English and been granted Master's degrees by the Fooyin University.
Bachelor in Pharmacy degree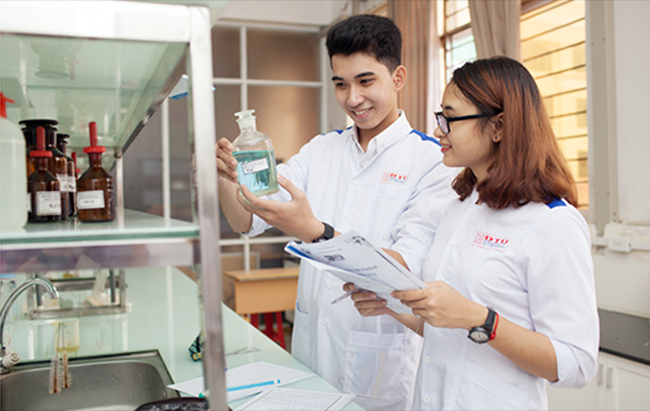 DTU students work in chemistry laboratories
Over the past 8 years, the DTU Pharmacy faculty has enrolled 5,000 students, of whom 2,500 have already graduated. The Faculty has also opened a Master of Pharmacology Management degree program.
DTU has always focused on the development of high-quality curricula and invested in state-of-the-art laboratories and equipment. The university partners with 18 local hospitals to allow students to learn from a wide range of clinical situations with a wide variety of patients. Meanwhile, DTU has opened the University Pharmacy and other simulated training pharmacies, providing staff, lecturers and Health Science students, particularly in Pharmacy, the ideal environment for their studies, internships and research.
The Bachelor of Pharmacy curriculum includes: General Biology and Genetics, General Chemistry and Inorganic, Organization and Management, Pharmacy Law, Medicinal Materials, Pathology, Pharmacology, Pharmacy Administration and Trading and Pharmaceutical Chemistry. Students master skills, such as the analysis and use of clinical drugs, differentiating between medicinal components, processing, producing and consulting on the use of pharmaceutical materials and preparations derived from medicinal herbs, the production of certain drugs, food and cosmetics and so on.
Doctor of Medicine program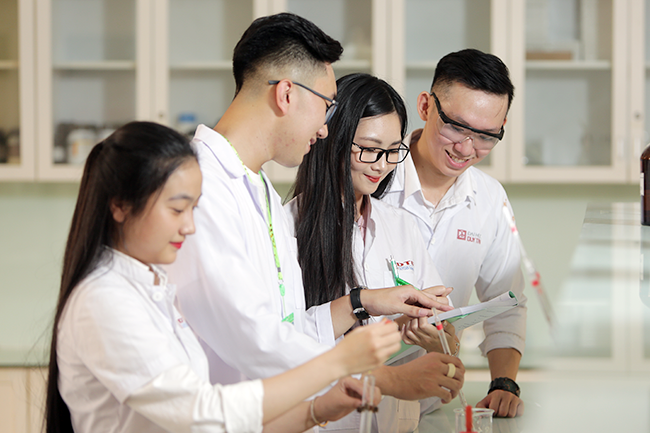 DTU medical students at study
DTU created the seven-year Doctor of Medicine degree program, in which the first year is devoted to English language training in order to provide a firm grasp of general and specialized medical English, so that students will be able to efficiently access and absorb the latest international information and research, all in English. During the next 6 years, they will learn about: Pediatric Psychiatry, Tuberculosis - Lung Disease, Orthopedic Injury, Cancer, Neurological, Ear-Nose-Throat, Internal Dermatology, Endocrinology, Clinical Medicine, Hematology and other topics.
DTU has connections with well-known American universities to develop shared curricula, including the University of Illinois in Chicago, with most comprehensive medicine and pharmacy programs in the US, and the University of Pittsburgh, ranked 7th in medical research, Duke University-NUS in Singapore, Ben Gurion University in Israel, Burapha University, Khon Kaen University and Mahidol University in Thailand, and Sun-Moon and Dong-A Universities in South Korea.
Focusing on improving the quality of education at DTU, teams of 12 doctors, pharmacists and nurses have been sent to the US for training. DTU has also developed 3D Virtual Reality Technology software to simulate the human body in health science classes and research, with 3,924 parts of the human body, as well as a Cardiopulmonary Resuscitation First Aid Training System and the DTU-Vent ventilator, to provide students for the necessary graduation skills.
Doctor of Odonto-Stomatology
The DTU Odontoid-Stomatology degree program has recently benefited from new facilities and international collaborations, even though it was introduced later than the General Practitioner, General Nursing and Bachelor of Pharmacy programs.
The program is designed to offer a solid foundation of knowledge and skills about the structure and function of the human mastication system, disease prevention and treatment methods, odonto-stomatologic research, the diagnosis and treatment of common odonto-stomatologic diseases, like tooth decay, periodontitis and dental infections, dental deviation, tooth loss, cancer, congenital malformations, facial trauma and infection, and the treatment of odonto-stomatologic emergencies, such as bleeding after tooth extractions, dental pulpitis, fractures of the jaw and the combined use of traditional and modern medicine to treat and prevent odonto-stomatologic issues.
DTU has collaborated with the Danang Center for Odonto-Stomatology, the Hue Central Hospital, the Danang C Hospital, the Danang General Hospital, the Ministry of Public Security 199 Hospital, the 17 Military Hospital Region and the General Hospital in the highlands of northern Quang Nam, to offer practical clinical treatment to a wide variety of patients.
In 2020, DTU continues awarding preferential scholarships to Health Science students:
• Scholarships for applicants with excellent high school transcript: 700 scholarships from 500,000 to 2 million dong, for applicants with a high school transcript score of 22 or above, including Health Science applicants.
• Scholarships for high- HSGE scoring applicants: 720 scholarships worth from one to five million dong each for applicants with a total High Graduation Exam three-subject score three to ten points higher than the admissions minimum, including Health Science applicants.
• Students from Quang Tri, Quang Binh, Ha Tinh, Nghe An and Thanh Hoa will each be awarded 1 million dong if they enroll in General Nursing.